---

Southside Christian School is committed to providing quality programs that equip our students in the Christian faith and prepare students for lives of service.  Alongside our teachers, staff and administration, who impact our students through the SCS academic programs and service projects is a team of quality coaches who are committed to developing "team" and competition within a framework of our faith. 
We have purchased 30 acres of property off Winston Road near our two current campuses.  We look forward to the coming day when the Lord provides the funding to construct our new campus including: academic building, Warriors Gym, and athletic fields to accommodate all of our team sports.
Athletic Associations
NCISAA — The North Carolina Independent Schools Athletic Association —NCISAA Link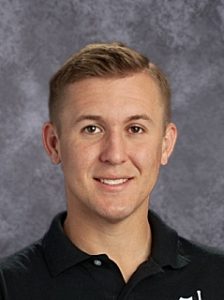 Cutler Harris is our Athletic Director.   Cutler attended Greenville Christian Academy for 13 years where the Lord greatly shaped his life.  After graduating from High School, he attended Southeastern FWB Bible College where he received his under grad with a major in Pastoral Theology and a minor in Practical Ministries.
After this he served full time at a church for a few years where teaching kids on a consistent basis quickly became his passion. Cutler shared that some of the most pivotal influences in his life came when he was in his teenage years at Greenville Christian School.  Cutler prays that the Lord will allow him to be that person for a young boy or girl at Southside Christian School while working with students in the area of sports.  Cutler loves the Lord, athletics, and the lessons that increase one's love for the Lord through TEAM.
The Lord has blessed Cutler with a beautiful wife Emily, their son and his little buddy Cooper, and a sweet little girl Skyler. Cutler is excited about the opportunity to serve the Lord for many years at Southside Christian School.
Go Warriors!                    Email:  Cutler Harris, Athletic Director
SCS Conferences:  We are currently a member of the Capital City Conference (West Division) with CAASC
We are members of the NCISAA for the 2020-21 school year and are part of the Mid-Carolina Conference (MCC).
The schools that we will be competing against in the MCC are:
Community Christian School
Cressent Christian Academy
Crossroads Christian School
Grace Christian School — Sanford
Lee Christian School
We currently play our home volleyball and basketball games at JD Lewis Gym in Raleigh and our soccer and baseball games at the East Clayton Community Park.  We are appreciative of the use of these facilities/fields and have enjoyed many games cheering on our Warriors at both venues.  Go Warriors!
---