---
Southside Christian School is prayerful and hopeful that the Lord will provide the funding to begin new campus site work on our 30-acre parcel in the next year or two.  Once the site work is completed we hope to construct a gymnasium and an education building to provide athletic facilities and education space for our growing school.  Our enrollment is currently over 300 students and the new campus is being designed to have double sections of each grade level and a total of over 500 students.  The new campus construction is fully dependent on God's provision.  Thank you for praying for the advancement of SCS and the opportunities to serve Clayton and the surrounding communities.   Please see the following conceptual renderings of the proposed buildings and also the proposed site plan.
SCS Education Building — Proposed to be built on Clayton, NC  30 acre parcel.
SCS Gymnasium – Proposed Building for SCS New Campus

SCS Site Plan — Gym, Education Building and Baseball, Soccer, Softball Fields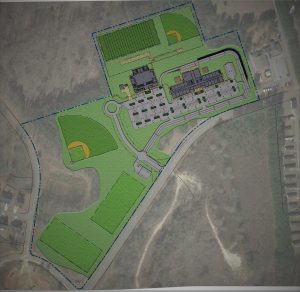 SCS has partnered with Tony Johnson Architects in Clayton, NC for the development of preliminary building schematics.   
SCS has also partnered with Triangle Site Design in Raleigh, NC for Master Site Planning and permitting review.
---