Southside Christian School was formed in 2006 as a ministry of Southside Church.  On July 1, 2018, SCS began operations as an independent Christian school.  One of the indicators of school strength is the stability of its Board of Directors. 
The SCS Board pictured below all served on the SCS Board during the time that we were a ministry of the church and continue serving today as the school serves the families of Johnston and surrounding counties.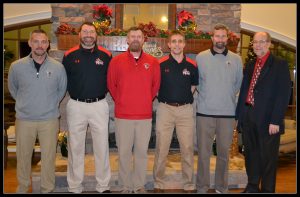 SCS Board of Directors:  Wes Winterstein, Chad Jewett, Matt Buchanan, Bill Adams, Josh Shepherd, and Dr. Patton (ex-officio)
Board of Director's Commitment Pledge
Recognizing the important responsibility I am undertaking in serving as a member of the Board of Directors for Southside Christian School, I hereby pledge to carry out in a trustworthy and diligent manner the duties and obligations of my role as Director.
 My role
I acknowledge that my primary roles as a Board member are to contribute to defining the school's mission, governing the fulfillment of that mission and to carry out the functions of the office of Director as stated in the bylaws.
 My role as a Board member will focus on the development of policies that govern the implementation of the school's mission, vision, and strategic plans.
This role is separate and distinct from the role of the Head of School, who determines the means of implementation and oversees implementation on a day-to-day basis.
 My commitment
     I will exercise the duties and responsibilities of this office with integrity, collegiality, and care.   I will support the Head of School in his day-to-day operations of the school and not interfere in any way.  If I have a concern, I will discuss it through the appropriate chain of command.
 I pledge
To establish as a high priority my attendance at all meetings of the Board and committees on which I serve.
To be prepared to discuss the issues and business addressed at scheduled meetings, having read the agenda and all background material relevant to the topics at hand.
To work with and respect the opinions of my peers who serve this Board and to leave my personal prejudices out of all Board discussions.
   To always act for the good of the school.
To represent this school in a positive and supportive manner at all times and in all places.