---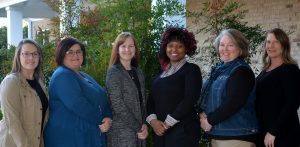 SCS Parent Teacher Fellowship Officers for the 2018-19 school year are pictured above. 
From left to right they are:  Jessica Partin, Dawn Fairfield, Emily Holley, Tasha Simpson, Tracy Shouse, and Deidre Schwietering. 
We appreciate the great job the PTF is doing to encourage our staff and partner with our parents.
PTF Purpose
The Southside Christian School (SCS) Parent Teacher Fellowship (PTF) exists to develop a positive and welcoming climate for all parents while assisting the administration in meeting its current needs through:
Promoting the mission and vision of our school and contributing to a positive school culture.
Facilitating communication between the parents, the Head of School, the Leadership Team, the faculty and staff, and the School Board.
Encouraging and supporting faculty, staff, and the Leadership Team to do their work effectively.
Promoting academic, spiritual, and social development in our student body.
Enhancing parental participation.
Excellence in Education from a Christian Worldview
The purpose of the Southside Christian School Parent Teacher Fellowship is to support the mission of SCS by establishing and nurturing a relationship between parents, faculty, staff, and students.  The purpose is met by the PTF fostering the SCS core values, which are: Absolute Truth, Excellence,  Servanthood,  Outreach, and Integrity.
In addition, the PTF will have/be:
Collaboration:  The PTF will work diligently to build strong partnerships both internally and externally to enhance the ability of the organization to provide the necessary resources and tools for the education and support of both students and faculty/staff. 
Communication:  The work of the PTF will be transparent, incorporating input from parents, faculty and staff.  Scheduled reports will be made available regarding activities and subsequent results of their actions.  Non-biased forums will be established to provide an avenue for parents, students, and faculty/staff to offer input and feedback regarding the PTF's and school's needs and activities.
Supportive:  The PTF will provide assistance to our school by supporting opportunities for educational enhancements, establishing and carrying out appreciation events, and praying regularly for SCS.
The PTF will provide assistance to parents/students by providing engagement opportunities through school and community activities. 
Accountability:       The PTF will be accountable to the Head of School and seek to honor Christ in all activities, knowing that our efforts impact eternal consequences in the lives of children.  In addition, the organization holds itself accountable to the faculty, staff, parents and students to provide a resource to engage and empower the educational mission of the school.  To that end, the PTF will strive to do all things with the goal of promoting excellence in education and spiritual growth for the students of Southside Christian School.
The SCS Parent Teacher Fellowship was formed during the 2017-18 school year and is having a great 2018-19 school year.
Click the PTF Handbook link to learn more information about the SCS PTF.
Click the PTF Application if you are interested in serving on the SCS PTF.
---